Configuring actions for process steps
You can determine what action the assignee and the initiator of an item can take at each step. 
Go to the Permissions tab in the process editor. Select any step and scroll down to the bottom of the form. Hover over the options and click Configure.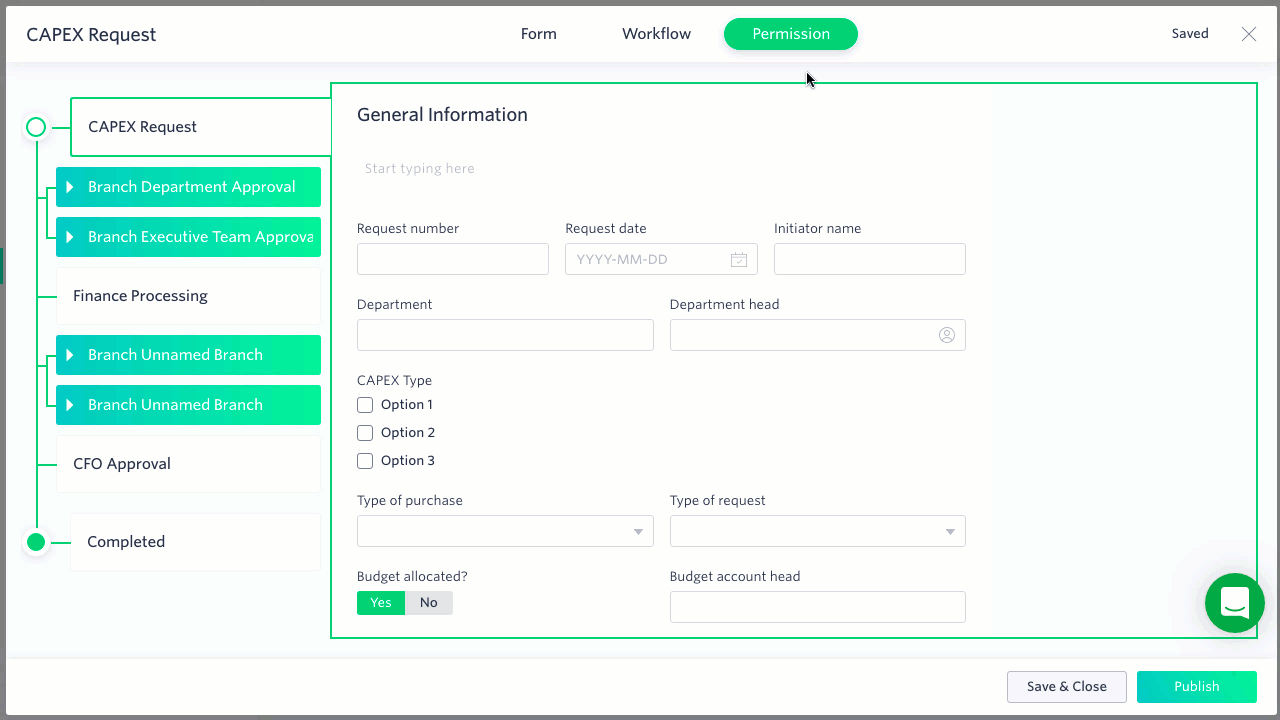 Actions for Start items
When a member of a process creates a new item, they have three options at the bottom. By default, these say Save, Submit, and Discard. If you want to change the wording, you can click on the step called Start on the left side and scroll to the bottom. You can change the name of Submit to Approve or Done, depending on what is most appropriate. You can also change the word Discard to Delete.
For the Submit action, you can add a validation based on the data in any field. The field validations you configured in the form will also be in force, but this is a good option in case those values are dynamic throughout the workflow or if you want to use a system field. 
Initiator actions for items in progress
Once initiators submit an item, they can track it in the workflow through My Items. When they open the item, they will see the fields configured at the Start step. At the bottom will be a set of actions they can take. You can configure if these options are available at each step. 
Reassign allows the creator to assign the task to a different assignee. 
Withdraw allows the creator to remove the item from the workflow. 
You can also add validations for when the Withdraw action appears, such as only if the item was created by a particular user.  
Assignee actions for items in progress
At each step you can configure what actions can be taken by the assignee. 
Submit is the action that advances the workflow to the next step. You can change the name of this action to Approve or Done.
Reassign allows the current assignee to assign the item to a different user. 
Send Back allows the assignee to send the item back to any previously completed step in the workflow, including Start. If you send the item back to start, it retains the same data and request number.
Reject sends the item back to the creator and cancels the workflow. The creator can restart a new item with a new request number after altering the data, but it must go through every step of the workflow again. 
You can also add validations for the Submit, Send Back, and Reject actions.
---
---